A historical day out with kids in Cahir Castle, Co Tipperary by Dolly Dowsie, a mum who loves to share wonderful memories, photos, adventures and the best top tips for families traveling together. Here is what she had to say about the wonderful Cahir Castle.

As part of our collaboration with Tipperary Tourism, we went to an old haunt of ours, the fabulous Cahir Castle in the beautiful town of Cahir, Co. Tipperary. The castle is situated on the River Suir and it quite picturesque to look at – especially on the day we visited with a gaggle of geese enjoying the river!
Cahir Castle is where Jacek and myself had our first ever day out to way back in 2011 before any babies graced our lives and we've been back many times since with the boys in tow. My boys love a castle and Tyler especially was delighted to see the castle again and couldn't wait to go inside and act as tour guide for us.

I was a bit nervous about visiting the castle on my own with the boys, but honestly, Cahir Castle is very child friendly and the boys were able to explore freely – even Beau managed the spiral staircase with ease once he was holding my hand coming down.
Cahir Castle was built around 1142 and is one of the largest castles in Ireland. The castle is in amazing condition for it's age and visitors are able to explore freely or as part of a guided tour – there are multiple throughout the day.
Of course, with two busy little boys in tow I decided it was best to let them just look around at their own pace. They had great fun climbing up the towers and watching all that was going on out on the main road from the castle windows.
I love that even though they've been many times, the boys weren't bored with the castle at all and Tyler really enjoyed being a little tour guide for me – some parts of the castle that were previously closed are now open and he delighted in showing them to me.
Cahir Castle is open all year round, except for 24th to 31st of December. It's €13 for a family ticket or €5 for adults and €3 for children,
which makes it one of the more reasonably priced castles to visit in Ireland. I'd highly recommend a visit if you want to show your kids a little bit of history, let them explore a castle for themselves and are looking for a purse-friendly day out with the kids.
The castle is surrounded by a green with wildflowers growing in the summer months and the Coronation Walk with a fairy trail is just a short walk away.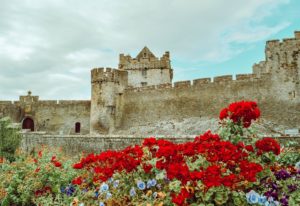 Team your visit with a trip to the neighbouring Swiss Cottage (2k away by walking or just a short drive down the road) and you'll have a day out filled with history and amazing scenery.
You can follow @cahircastle on Instagram for regular updates about the castle