Why not treat a family member or close friend to a Christmas Voucher at Deansgrove Streak House located at the fabulous Dundrum House Hotel, County Tipperary. A concept that began on a farm, progressed to a butcher shop and finally has arrived, in all its wonder to become Deansgrove Steakhouse. It's a restaurant that stems from a strong "paddock to plate" ethos – home-producing beef of the highest quality for over 4 decades
Martin O'Dwyer opened their iconic shop in Cashel in 1973 where dry ageing beef became their speciality as it is today. O'Dwyer's rear their cattle on their rich Tipperary grassland, outside the town. Having the farm and abattoir here at Deansgrove allows them to control every step that is required to produce their superior beef.
Cattle free to roam through rich nutritious grass gives their beef its unmistakable great taste.  They dry-age their steaks for at least 35 days in purpose-built cold chambers, where nothing extra is added, just time…. This simple but effective philosophy allows O'Dwyer's to ethically produce beef of the highest standard with a taste and flavour like no other.
Deansgrove Steakhouse is a restaurant where great food and wine come together in a way that is so simple and yet so exciting! Enquiries regarding Deansgrove Steakhouse please visit https://www.dundrumhousehotel.com/deansgrove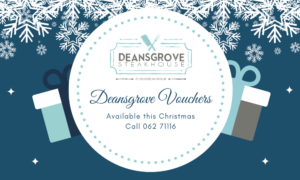 Tipperary in alignment with government guideline is closed to visitors outside of the county, and residents beyond their 5km.
Tipperary looks forward to welcoming you when it is safe to do so.Feel free to browse and dream of holidays to come.
There will be a warm welcome waiting.