Discover the amazing taste and superb quality that can be found in a Tipperary Food Producers Taste of Tipperary Hamper.
A taste of Tipperary Hamper can be shipped nationally and internationally. This sumptuous hamper was designed earlier this year by members of the Tipperary Food Producers ensuring excellence in standards with locally sourced foods at the heart of its ethos. TheTipperary Food Producers work in conjunction with Hampers & Co one of Ireland's leading luxury hamper company, also based in Tipperary. Supporting local produce has never been so important and #Tipperary has much fabulous food produce to rave about. From farm to fork, the hamper consists of amazing food products like Ayle Farm, Crossogue Preserves, Cashel Blue – Ireland's Finest Blue Cheese, Cooleeney Cheeses, Irish Hedgerow, The Apple Farm, 3 MeninaTrailer, Rívesci and Galtee Honey Farm.
Tipperary Food Producers have many members that are winners of the Great Taste Awards and most recently Blas Na HEireann Awards 2020 and are really putting Tipperary on the map on a top-class food destination.
The Taste of Tipperary Hamper is available to purchase from the following website (Hampers & Co) https://hampersandco.com/the-tipperary-food-producers-hamper.html
Check out www.tipperaryfoodproducers.ie for more information.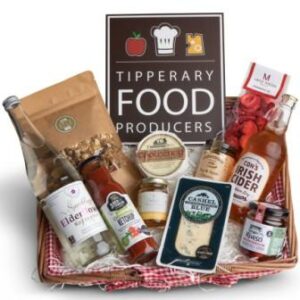 Tipperary in alignment with government guideline is closed to visitors outside of the county, and residents beyond their 5km.
Tipperary looks forward to welcoming you when it is safe to do so.Feel free to browse and dream of holidays to come.
There will be a warm welcome waiting.